Easy DIY Kitchen Upgrades for a Stylish Makeover: From Drab to Fab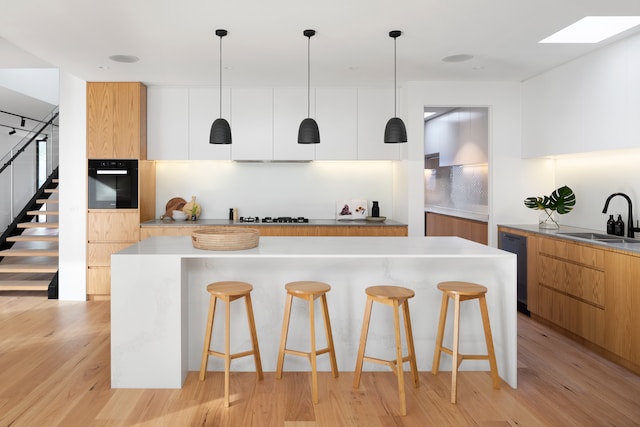 Welcome to the kitchen, the centre of your house. Not only is it a place to cook, but it's also a place where beloved memories are created and shared. Whether you're an aspiring master chef or you just enjoy hosting parties for family and friends, remodelling your kitchen may give this cherished room a fresh new look.
But let's face it, not everyone has the funds or time to complete a comprehensive kitchen renovation. The good news is that updating your kitchen to look chic doesn't need breaking the bank or hiring a crew of experts. You can make your plain kitchen into something genuinely wonderful with a little imagination, DIY zeal, and a dash of inspiration.
This blog post will walk you through simple DIY improvements that you can do to breathe new life into your kitchen without breaking the bank. So be ready to dig in as we explore creative design ideas and eco-friendly materials that will transform your culinary haven from plain to stunning! Let's begin straight away!
Selecting a Design Theme for Your Upgraded Kitchen
Selecting a design theme is an exciting and crucial step when remodelling your kitchen. It establishes the tone for the overall appearance and feel of your room, resulting in a unified and fashionable environment.
The modern farmhouse is a common design motif. This design mixes simple lines with rustic touches like reclaimed wood or lighting fixtures with a vintage feel. It maintains a sleek and modern design while adding warmth and charm to any kitchen.
Scandinavian design is the way to go for people who want a more basic approach. It is ideal for tiny spaces because it is straightforward and practical. This style's defining characteristics are light hues, organic materials, and uncluttered surfaces.
Consider going big with a statement colour or pattern to add some excitement to your kitchen upgrades. Your room can be made into a showpiece with the addition of patterned tiles or a backsplash in a vivid blue colour.
The ideal option for individuals who yearn for elegance and sophistication may be conventional design. Rich woods, elaborate accents, and traditional furniture pieces combine to create a classic aesthetic that is always in fashion.
No matter what design style you opt for when upgrading your kitchen, always stay true to who you are and what makes you happy at home. After all, this is where memories are created, so why not do so in a stunning setting?
Utilising Sustainable Resources and Methods
Why not think about using sustainable materials and practises when updating your kitchen? This will not only improve the overall appearance of your room but also help the environment. Here are a few quick ideas to make your kitchen more environmentally friendly:
Instead of standard hardwood flooring, choose countertops made of recycled glass. These materials reduce the need for additional resources because they are not only resilient but also renewable.
Replace your outdated appliances with ENERGY STAR-rated energy-efficient models. Long-term, this will help you use less electricity and minimise your monthly bills.
To reduce water waste in the kitchen, install low-flow faucets and showerheads. To save both water and power, think about purchasing a dishwasher with a high energy efficiency rating.
Use environmentally friendly options such as vinegar or baking soda-based treatments in place of harsh chemical cleaners. These are not only better for the environment, but also safer for you and your family.
Start composting food scraps rather than tossing them in standard trash containers. You may lessen landfill waste while nourishing the plants in your yard by turning organic waste into nutrient-rich compost.
You can help the environment by adding these eco-friendly products and methods into your kitchen renovation by doing tiny but meaningful things now.
Keep in mind that updating your outdated kitchen doesn't have to be expensive or involve big modifications! You may obtain a stylish makeover that reflects both functionality and personal style by giving careful consideration to design themes, innovative DIY projects, and sustainability considerations. So get ready to roll up your sleeves, get inspiration from a variety of places (hi, Pinterest!), and, if necessary, enlist some assistance. Now get ready to relish creating a culinary masterpiece in your stunning new kitchen!
RicardoMcclure
November 16, 2023